Collection of pictures from Seinfeld.


Selection of sounds from Senfeld.


Collection of Seinfeld Movies.


Scripts from most episodes.


Search for pictures, sounds, movies, scripts and more by episode.


Information on your favourite characters.


Information perhaps you didn't know about Seinfeld.


Anything that doesn't come under the above categories.


Something you can't find on this site, have a look at these others....


Feedback, problems, links.... Feel free to E-Mail me.

"The Hamptons"
Episode : #81 Season 5
Original Air Date : 12th May 1994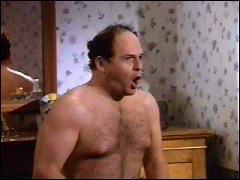 Jerry, George, Kramer and Elaine go down to the Hamptons to see the baby. Jerry and Elaine don't have the heart to tell the parents how ugly the baby is. Elaine is interested in a doctor who calls her "breathtaking", but isn't sure when she hears him call the baby "breattaking". Georges girlfriend is seen topless by everyone except George. George then tries to walk in on Jerry's girlfriend changing to make up for it, but doesn't succeed. Instead, Jerry's girlfriend walks in on him changing after he had been in the pool and there had been "significant shrinkage". Kramer brings lobsters back to eat which he "found" on the end of a rope in a cage. George tries to explain about the shrinkage. Kramer is caught for stealing the lobsters.


Click Here for the scripts to "The Hamptons"