Collection of pictures from Seinfeld.


Selection of sounds from Senfeld.


Collection of Seinfeld Movies.


Scripts from most episodes.


Search for pictures, sounds, movies, scripts and more by episode.


Information on your favourite characters.


Information perhaps you didn't know about Seinfeld.


Anything that doesn't come under the above categories.


Something you can't find on this site, have a look at these others....


Feedback, problems, links.... Feel free to E-Mail me.

"The Conversion"
Episode : #72 Season 5
Original Air Date : 16th December 1993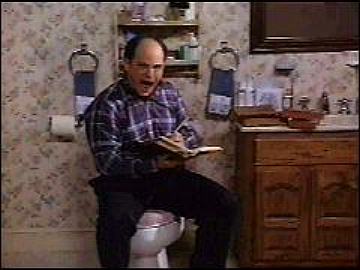 George converts to Latvian Orthodox to stay with his girlfriend, and cheats in the conversion test. Jerry snoops through his girlfriend's medicine cabinet and finds a tube of fungucide, and he thinks that she has fungus. Kramer has the Kavorka and Sister Roberta considers leaving the church for him. After George's conversion, his girlfriend tells him she is going away to Latvia for a year. Jerry finds out the fungucide is for his girlfriends's cat. Kramer is cured of the Kavorka.