Collection of pictures from Seinfeld.


Selection of sounds from Senfeld.


Collection of Seinfeld Movies.


Scripts from most episodes.


Search for pictures, sounds, movies, scripts and more by episode.


Information on your favourite characters.


Information perhaps you didn't know about Seinfeld.


Anything that doesn't come under the above categories.


Something you can't find on this site, have a look at these others....


Feedback, problems, links.... Feel free to E-Mail me.

"The Junior Mint"
Episode : #58 Season 4
Original Air Date : 18th March 1993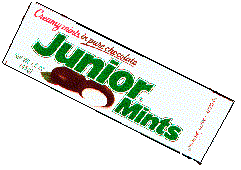 One of Elaine's old boyfriends is going in for surgery, so Elaine goes to see him. Kramer convinces Jerry to go and watch the Operation with him. When offering a Junior Mint to Jerry, Kramer drops it into the operating theatre and it lands right inside the guy. The Doctors don't notice and stitch him up with the mint inside him which miraculously saves him. Meanwhile, Jerry doesn't know the name of the woman he's dating, except that it rhymes with a female body part. George buys some of the man's art because he thinks he is going to die.


Click Here for the scripts to "The Junior Mint"