Collection of pictures from Seinfeld.


Selection of sounds from Senfeld.


Collection of Seinfeld Movies.


Scripts from most episodes.


Search for pictures, sounds, movies, scripts and more by episode.


Information on your favourite characters.


Information perhaps you didn't know about Seinfeld.


Anything that doesn't come under the above categories.


Something you can't find on this site, have a look at these others....


Feedback, problems, links.... Feel free to E-Mail me.

"The Pez Dispenser"
Episode : #31 Season 3
Original Air Date : 15th January 1992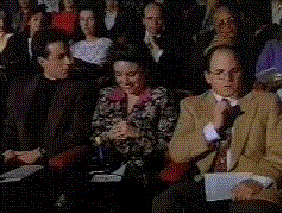 Jerry and Elaine go with George to his girlfriend's piano recital. Jerry brings a pez dispenser which makes Elaine laugh during the recital. George gets "hand" by breaking up with her before she could have broken up with him. Kramer comes up with an idea to have a cologne that smells like you've been to the beach. The four hold an intervention for one of their friends on drugs.


Click Here for the scripts to "The Pez Dispenser"