Collection of pictures from Seinfeld.


Selection of sounds from Senfeld.


Collection of Seinfeld Movies.


Scripts from most episodes.


Search for pictures, sounds, movies, scripts and more by episode.


Information on your favourite characters.


Information perhaps you didn't know about Seinfeld.


Anything that doesn't come under the above categories.


Something you can't find on this site, have a look at these others....


Feedback, problems, links.... Feel free to E-Mail me.

Newman Wayne Knight
---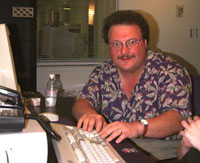 Seinfeld fans all recognize the mane of actor Wayne Knight with the conniving postal worker Newman, living down the hall from Jerry Seinfeld in his apartment building. While Knight's Seinfeld role as Newman has given his acting career a big boost, Wayne Knight had been around long before the famous show about nothing.
Knight was raised an only child in Cartersville, GA. He kept quiet about his acting ambitions until high school, when he landed a role in a porduction staged by Cartersville community theatre. That experience proved to be a bit of an eye-opener for the timid teen, who later recalled, "When I went backstage for the first time I saw all these people sitting on each other's laps and making out, and some of them were not married to each other, or were even married to other people. And I thought, 'What a wild kind of life this is! This is for me!' I got my first serious kiss from the girl doing props." Inspired by this re-introduction to the wonders of acting, Knight enrolled at the University of Georgia, where he majored in "theater and beer."
Once graduated, Knight immersed himself in regional theatre productions, aiming to get an Actor's Equity card. His success there meant that in 1977, he could emigrate to New York with a vision of a Broadway role. In Broadway he scored the role of Herschel in Albert Innaurato's Gemini. The production lasted 3 years with eight performances a week. After Albert Innauratos's Gemini he picked up a few comedy gigs, but when entertainment jobs were scarce, he took a job as a private investigator with a New York-based detective agency.
During the next 5 years, acting jobs were still scarce but Knight did manage was a season's role in a British-TV sketch comedy series called Assaulted Nuts, where he became acquainted with the actress Emma Thompson. Though Knight soon returned to New York, their friendship endured; in 1994, Thompson told People magazine, "He's like family to me, and he makes me laugh more than anybody I know."
In 1987, Knight made his feature-film debut with a small role in Forever, Lulu, a thriller that also featured a young Alec Baldwin; later that same year, he appeared in a supporting capacity in the Patrick Swayze-Jennifer Grey coming-of-age blockbuster Dirty Dancing. Though the erstwhile P.I. was billed somewhat dismissively as "Fraternity Pisser" in his third film, 1988's Everybody's All-American, he became determined to forge a career in movies, and relocated to California, where increasingly more prominent supporting parts began to come his way. Thompson helped him land a role in her then-hubby Kenneth Branagh's 1991 reincarnation thriller Dead Again, and he made a strong impression as one of the sweating, pop-eyed cops who gets a peep at Sharon Stone's crotch in Basic Instinct's memorable interrogation scene. That performance brought him to the attention of über-director Steven Spielberg, who subsequently cast Knight as Jurassic Park's double-dealing computer-systems whiz, Dennis Nedry, without even meeting him.
After filming wrapped on Jurassic Park, Knight enjoyed a brief run on Fox's 1992 sketch comedy series The Edge, which also featured a pre-Friends Jennifer Aniston, and later that same year, he was offered his career-defining Seinfeld role. His character, Newman, had already appeared in one episode—unseen and voiced by Seinfeld co-creator Larry David—in which he threatens to leap to his death until Kramer convinces him to go see a movie instead; the episode was later re-dubbed for syndication using his voice. Knight first appeared in the episode in which Jerry takes advantage of Newman's obsession with Drake's coffee cakes to pry information out of him. Knight quickly became a fan favorite, and Newman appeared in thirteen episodes of Seinfeld during the show's 1997-98 swan-song season. Anxious to capitalize on the actor's growing audience appeal, NBC execs ushered him into a Newman-esque recurring role in another of the network's flagship sitcoms, 3rd Rock From the Sun.
In May of 1996, Knight married makeup artist Paula Sutor—whom he met on the set of the short-lived NBC series The Second Half—at the Pacific Palisades home of Seinfeld co-star Michael Richards. Also in 1996, Knight's movie career took a decided turn towards the animated when he starred alongside Michael Jordan and Bill Murray in the Loony Tunes-themed Space Jam. For his next movie outing, he voiced a character for Disney's animated Hercules; and each of his next three jobs will likewise feature his now-famous diction, but not his equally recognizable physique. On the small screen, Knight will join the cast of the DreamWorks animated series Steven Spielberg Presents Toonsylvania. That effort will be followed by two animated projects for Disney: he'll team up with Tom Hanks and Tim Allen for Toy Story II; and lend his pipes to the studio's long-promised animated retelling of Tarzan, which will also feature the vocal talents of Glenn Close, Rosie O'Donnell, and Minnie Driver.