Collection of pictures from Seinfeld.


Selection of sounds from Senfeld.


Collection of Seinfeld Movies.


Scripts from most episodes.


Search for pictures, sounds, movies, scripts and more by episode.


Information on your favourite characters.


Information perhaps you didn't know about Seinfeld.


Anything that doesn't come under the above categories.


Something you can't find on this site, have a look at these others....


Feedback, problems, links.... Feel free to E-Mail me.

Jerry Seinfeld Jerry Seinfeld
---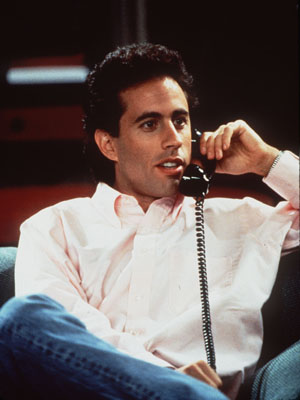 A creator, producer and star of his own Emmy and Peabody Award-winning comedy series, Jerry Seinfeld has enjoyed critical acclaim and success as a stand-up comic, television actor, best-selling author and advertising pitchman.

For his work on "Seinfeld" he has received numerous industry honors. They include an Emmy Award as producer of the series (Outstanding Comedy Series, 1993), in addition to three nominations in the Outstanding Actor/Comedy category; a Golden Globe Award as Best
Actor in a Television Comedy Series (1993); a Screen Actors Guild Award for Best Ensemble in a Comedy Series; and a Television Critics Award. He also won the American Comedy Award as Funniest Male Performer in a Television Series/Lead (1992 and 1993) and was named
Best Lead Actor/Comedy at the American Television Awards in 1993.

Born in Brooklyn, Seinfeld became fascinated by comedians at the age of eight while watching them on television and realizing their entire job was to make people laugh. Through his honor-roll years at Queens College and brief working stints as a telephone light-bulb salesman and a jewelry street vendor, he never lost sight of his dream. "My whole life I was just trying to laugh. I'm obsessed with that moment," he says.

He spent the next few years honing his craft and in 1987 starred in his own HBO special, "Jerry Seinfeld's Stand-up Confidential." He went on to host NBC's "Spy TV: How to Become Famous," Showtime's "Aspen Comedy Festival" and NBC's "Saturday Night Live." In the fall of 1994 he
hosted "Abbott & Costello Meet Jerry Seinfeld," an NBC special showcasing the comedy team that inspired Seinfeld as a youth.

Seinfeld has made a combined total of over 50 appearances on "The Tonight Show with Jay Leno" and "Late Show with David Letterman." He has been a featured guest on "The Barbara Walters Special" and "Larry King Live." Additionally, he has served as a spokesperson for
American Express.

Based on his comedic observations and stand-up material, he penned the best-seller "SeinLanguage" (Bantam Books). With more than 1.2 million copies now in
print, the book was the third best-selling non-fiction hardcover title published in 1993. It stayed on "The New York Times" Best Seller list for 33 weeks.

Seinfeld, who remains passionate about performing and continues to spend the hiatus from his series in front of an audience, earned the 1988 American Comedy Award as Funniest Male Stand-Up Comic.

He maintains residences in New York and Los Angeles. His birthday is April 29.