Collection of pictures from Seinfeld.


Selection of sounds from Senfeld.


Collection of Seinfeld Movies.


Scripts from most episodes.


Search for pictures, sounds, movies, scripts and more by episode.


Information on your favourite characters.


Information perhaps you didn't know about Seinfeld.


Anything that doesn't come under the above categories.


Something you can't find on this site, have a look at these others....


Feedback, problems, links.... Feel free to E-Mail me.

Elaine Benes Julia Louis-Dreyfus
---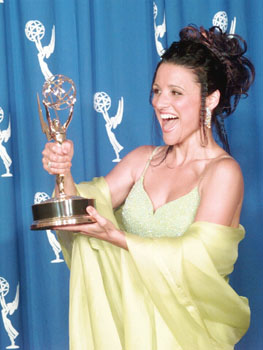 An Emmy Award winner for her work as Elaine on "Seinfeld," Julia Louis-Dreyfus returned for the series' ninth season after starring opposite Robin Williams and Billy Crystal in the feature film "Father's Day." In the fall of 1997, she appeared in Woody Allen's new feature film, "Deconstructing Harry."

With six consecutive Emmy nominations to her credit, Louis-Dreyfus won the coveted award in 1996 for her "Seinfeld" role. In 1997, she was honored with a Screen Actors Guild Award for Best Supporting Actress in a Comedy Series. She also earned a 1993 Golden Globe
Award for Best Performance in a Series by a Supporting Actress and is a four-time American Comedy Award winner as Funniest Supporting Female/Television. Additionally, she garnered an American Television Award as Best Supporting Actress/Comedy, and was awarded the Viewers for Quality Television Best Supporting Actress/Comedy award in 1993 and 1994.

Born in New York City, Louis-Dreyfus was raised in Washington, D.C., where she became interested in acting at an early age. She studied theater at Northwestern University and worked extensively as a member of The Practical Theater Company, an improvisational group with a large Chicago following. This led to her joining the famed Second City comedy troupe. While with Second City she continued her work with Practical Theater and during one of their special anniversary revues was asked to join the ensemble cast of "Saturday Night Live."

Louis-Dreyfus has to her credit a variety of roles on both the big and small screen. In addition to starring on NBC's "Saturday Night Live" for three seasons in the early-to-mid 1980s, she also appeared in the NBC comedy series "Day by Day" (1988-89). Her feature films include Woody Allen's "Hannah and Her Sisters," "Soul Man," "National Lampoon's Christmas Vacation," "Jack the Bear" and Rob Reiner's "North."

Last year, Louis-Dreyfus starred in the NBC movie "London Suite" in a role that was written for her by longtime fan Neil Simon.

Louis-Dreyfus currently serves as the "Nice and Easy Girl" for Clairol hair products. She and her husband, writer and producer Brad Hall, live in Los Angeles with their sons, Henry and Charlie. Her birthday is January 13.