Collection of pictures from Seinfeld.


Selection of sounds from Senfeld.


Collection of Seinfeld Movies.


Scripts from most episodes.


Search for pictures, sounds, movies, scripts and more by episode.


Information on your favourite characters.


Information perhaps you didn't know about Seinfeld.


Anything that doesn't come under the above categories.


Something you can't find on this site, have a look at these others....


Feedback, problems, links.... Feel free to E-Mail me.

This page will be updated with more characters in the near future, but for now I only have the fabulous four main characters.

Julia Louis-Dreyfus
Plays Jerry Seinfeld's Ex-Girlfriend, Elaine Benes. Her successful acting carreer, especially with 'Seinfeld', has awarded her many well deserved awards.

Jason Alexander
Plays Jerry Seinfeld's best friend since high school, George Costanza. George Costanza is unemployed and lives with his parents.

Jerry Seinfeld
Jerry Seinfeld Plays himself, a struggling stand up comedian in New York, trying to write a sitcom about nothing for the NBC network.
Michael Richards
Plays Jerry Seinfeld's off-the-wall neighbor, Cosmo Kramer in 'Seinfeld'. He doesn't have a job but is the owner of his company Kramerica Industries and is always up to a new scheme or zany idea.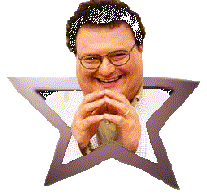 Wayne Knight
Plays Jerry and Kramer's neighbor, Newman. He is usually in Kramer's scheme. Jerry's arch enemy. Works for the Postal Service in 'Seinfeld'.